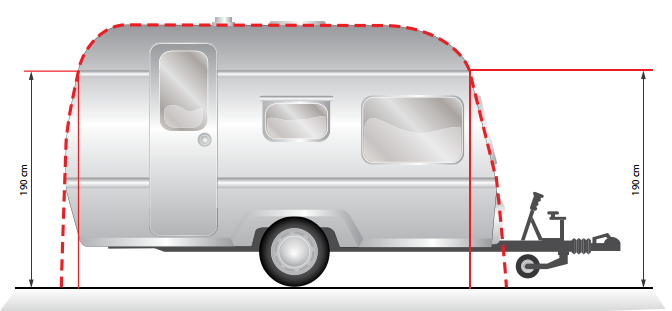 For the perfect customization of your awning or awning, it is essential that you work with the correct circulation of your caravan. This circulation is in many cases found in a database on the internet or in the booklet of your caravan, but because not every caravan is the same, it is better to measure the orbital size, in the right way.

How do you measure the circulation of your caravan?
-First, make sure that your caravan is on a flat surface. The caravan must be level, so the orbital dimension can be more specifically measured.
-Then turn all legs of the caravan out so that it is stable
-Make sure you have a (non-elastic) long rope, cord or measuring tape at hand.
-Start with the rope at the bottom left of the caravan, on the ground.
-Measure the length from the ground under the caravan rail straight up, through the caravan rail. On the sloping side at a height of 190 cm you measure diagonally with the rail to the ground (see image).